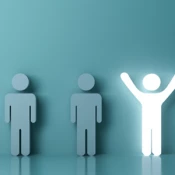 What Sets Storytelling Keynote Speakers Apart?
Jun 06 2022
Carson Ingle
What sets good keynote speakers from great ones? A mastery of the art of storytelling is what makes a keynote speaker memorable. Our minds like receiving information through storytelling because it provides a layer of both creativity and entertainment.
The best storytellers structure their stories in such a way that they deeply connect with their audience, creating an unforgettable and inspiring experience. These storytelling keynote speakers are experts at selling, marketing, and creating unforgettable customer experiences.
Andy Henriquez teaches leaders how to become better influencers, communicators, and business owners through strategic storytelling. As one of the top storytelling keynote speakers, Andy's philosophy is simple: the shortest distance between you and those you want to influence is a well-told story. He is on a mission to "Unlock the Power of Story" in leaders and change agents.
Kindra Hall has worked as a VP of sales for a multi-million-dollar corporation, a national champion storyteller, a 2014 Storytelling World Award winner, and a board member for the National Storytelling Network. Kindra has become a conference favorite for her clients, who invite her back year after year. Her talks feature eye-opening case studies, insightful research, and, of course, stories that participants will remember and retell long after the event is over.
Mike Ganino is the host of The Mike Drop Moment podcast, which focuses on storytelling and communication. Yahoo Finance named him a Top 10 Public Speaking Coach, and Corporate Vision Magazine named him California's Best Speaking and Communication Coach. He is an author and former Executive Producer of TEDxCambridge, as well as a Global Guru Top 30 Speaker.
Andy Goodman is a well-known author, lecturer, and consultant in the field of public interest communications. In addition to Storytelling as Best Practice, he is the author of Why Bad Ads Happen to Good Causes and Why Bad Presentations Happen to Good Causes. He is well known for his talks and courses on storytelling, communication skills, and strategic communication. When he's not teaching, traveling, or recovering from teaching and traveling, Andy works as a Senior Advisor at Civic Ventures and serves on the advisory boards of VolunteerMatch and GreatNonprofits.
Call Speaker Booking Agency today to book one of the top storytelling keynote speakers listed above for your event. Our company has been in business for over 20 years and our agents are experts on finding the right name for you based on your event theme and budget. Use our Online Booking Request Form or call us at 888-752-5831 for additional information.