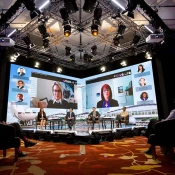 Top Hybrid Event Trends for 2022
Jun 06 2022
Companies are quickly realizing the benefits and reach of hybrid events. Many individuals are looking forward to returning to planning in-person events this year, but they must keep in mind the virtual audiences they have built over the last two years. Hybrid events have been an amazing option to engage both live and virtual audiences. Here are some top hybrid event trends in 2022.
1.
Hybrid Events on the Rise
Most event planners agree that hybrid events will not only continue to exist but will also flourish. When you consider all of the benefits of hybrid events, such as the flexibility and audience reach of a virtual event combined with the connection and engagement of an in-person event, it is not surprising. Hybrid events allow you to reach out to both in-person participants and those who might not have come if a virtual option had been provided.
2.
Immersive Virtual Elements
As virtual and hybrid events evolve, so do attendees' tastes. Event planners must continue to think of new ways to engage and immerse participants who might otherwise be distracted by coworkers or at-home distractions. This can include things like live streaming, polls, live chats, networking sessions, and other virtual elements.
3.
More Personalization
Personalization is everywhere, from Facebook ads to Hulu show recommendations. And, there is no exception when it comes to what is driving hybrid event trends. The usage of session tracks, which tailors information to each attendee's interests, is an example of personalization in action. This both increases engagement and adds value to the attendee. You can also engage participants before the event by encouraging them to recommend speakers, and topics, or ask questions. Hybrid events allow for even greater personalization by allowing attendees to participate in their desired location and on their preferred device.
4.
Smaller Events
Many companies used to hold a single annual conference or event before the pandemic. To cut costs and lessen the demand for in-person staff, companies started to organize events more frequently, spacing them out throughout the year. Organizations are recognizing the importance of engaging their members throughout the year, and virtual events provide the perfect platform for doing so.
5.
Focus on Physical and Virtual Safety
In a study conducted by the Professional Convention Management Association (PCMA) in 2021, 39% of event planners stated that proof of COVID-19 vaccination will be required to attend their events. Additional health measures that may be implemented at hybrid events include pre-screening, socially distanced seating, cleaning personnel, and filtration systems. In addition to physical security, event planners must consider rising cybersecurity threats. Therefore, event planners must increasingly work within a virtual event platform that includes security features.
Speaker Booking Agency can match you with the perfect speaker to capitalize on these hybrid event trends. Our agents have been working on both in-person and hybrid events since the pandemic started and have seen firsthand how effective a hybrid format can be. Use our Online Booking Request Form or call us at 888-752-5831 for more information.