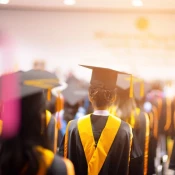 Inspirational Black Voices Highlight the 2022 Commencement Speakers Season
Jul 07 2022
Carson Ingle
The Class of 2022 has walked across the stage and accepted their diplomas. As always, commencement speakers play an important role in this special day, motivating a new generation of business professionals, scholars and artists.
Many schools returned to an in-person commencement format this year and the topics that were highlighted included ongoing challenges like the global pandemic and rapid social change. In particular, inspirational black voices dominated the stage and had the post profound wisdom to share.
Director and Chief Curator of The Studio Museum

Thelma Golden

at The New School
"You are stepping into an uncertain world in the midst of so many attacks on much of what we all hold dear and true, but you know all of this as you all have been living and studying through this all and this is the world you have inherited. It's what you have been learning about, what you have absorbed and what you have been thinking about artistically and intellectually and what you have experienced and now it is up to you to lend your voice and your vision to change."
Penn History Professor and Social Commentator

Mary Frances Berry

at Clark University
"My experience is that there can be no real satisfaction in a life devoted entirely to the satisfaction of personal desires. If one is to be consumed by passion, I can think of no more worthy all-consuming passion than the struggle for human rights, greater opportunity, and a livable planet."
Retiring UMBC President

Freeman Hrabowski

at Drexel University
"As we talk about gun violence, as we talk about the war, the global war going on right now for democracy, as we talk about voting rights, the challenge is for us to think about what each of us can do to believe in ourselves. We are a great country. What makes us great, though, is that we know we can be better and we want to do that. You become a part of the generation of leaders to make it better. And so, I challenge you to think about who you are, what you will be doing, what difference you will make."
Prison Reform Leader

Yusef Salaam

at UC Irvine
"This journey is not yet over. The most important thing in your life is that dash between your birth and your death. Do not leave this world without a trace. Let the world know you were here ... because when I found myself in that dark space, I had to find the light in that darkness," said Salaam. "And I found that oftentimes, that light is inside you and you get the opportunity to illuminate your own darkness and shine your light on the world."
To book one of the nation's leading commencement speakers, contact Speaker Booking Agency today! We can help you hire the speaker that perfectly fits your budget and the message you are looking for your graduates to benefit from. To get started, use our Online Booking Request Form or call us at 888-752-5831.