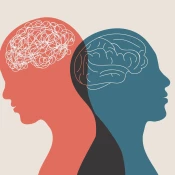 Top Mental Health Awareness Keynote Speakers
Jun 06 2022
Carson Ingle
Every year, around one in every five Americans, is impacted by mental illness, and people are banding together today more than ever to raise awareness. Maintaining healthy relationships, making positive choices, and accomplishing your goals all require good mental health. These inspiring mental health awareness keynote speakers strive to end the stigma around mental health and encourage understanding and empathy as survivors, medical experts, and passionate advocates.
Kevin Hines is a multi-award-winning mental health and suicide prevention activist, entrepreneur, best-selling author, international educator, and one of the leading mental health awareness speakers. Kevin inspires audiences with his story of an unlikely survival and his strong will to live. He is one of just 34 people who have survived the fall from the Golden Gate Bridge after he attempted suicide. His experience is being used to raise awareness about the importance of mental health.
Tanya Brown is the late Nicole Brown Simpson's youngest sister. Nicole's family established The Nicole Brown Foundation in her honor, which is dedicated to educating communities about domestic violence prevention techniques. Her contributions to the Foundation include speaking to a variety of groups as well as helping victims of domestic abuse and sexual assault. Brown has also bravely spoken about her own personal struggle with mental illness, in addition to her commitment to ending domestic abuse.
Sean Astin is an actor, director, producer, and speaker well-known for his iconic roles in The Goonies, Stranger Things, Rudy, and Lord of the Rings. Sean has worked on the boards of various non-profit organizations since the release of Lord of the Rings, including the National Center for Family Literacy. He is also a passionate speaker who promotes a culture of volunteerism to all audiences. Sean is a vocal advocate for literacy, mental health awareness, bipolar disorder, and civic engagement.
Rebekah Gregory is a survivor of the Boston Marathon bombings in 2013. This act of terrorism changed her life forever when it took her leg. Ever since then Rebekah has spent the last decade turning her experience into motivation. She is now a sought-after inspirational speaker, author, coach, and the founder of Rebekah's Angels Foundation, a non-profit that funds mental health therapy for children and families who have experienced trauma.
Call Speaker Booking Agency today to book one of leading mental health awareness speakers for your event. We have a team of experienced booking agents that can help you make the best pick based on your event theme and budget. Use our Online Booking Request Form or call us at 888-752-5831 for additional information.