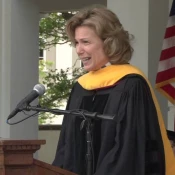 Top COVID-19 Speaker Deborah Birx Back on the Circuit
May 20 2021
Carson Ingle
Deborah Birx was one of the top public officials during the COVID-19 coronavirus pandemic. Now as a private citizen again, she is back out on the speaking circuit and is desired as a top COVID-19 speaker.
Birx also recently got to deliver the in-person commencement address at Plymouth State University. Her brother, Donald, is the school's president.
In addition to sharing an inspirational message with the class of 2021, Birx, the former White House coronavirus response coordinator, also received an Honorary Doctorate in Public Service.
Birx's entire remarks from the May 7th address can be found below.
In addition to her standing as a top COVID-19 speaker, Dr. Birx can address an array of important political, health and foreign policy issues. She has spent her entire adult life in service to the country.
Birx first started as an Army Colonel and an active duty reserve officer in the U.S. Army. She spent time at the Walter Reed Army Medical Center as a physician.
Birx then became an expert on HIV/Aids, serving in several capacities for the Centers for Disease Control and Prevention. In 2014, President Barack Obama nominated her as an Ambassador-at-Large and to run the President's Emergency Plan for AIDS Relief.
Birx continued her role with the White House under President Trump until joining the administration's Coronavirus Task Force last year. She currently works with ActivePure Technology as a Chief Medical and Science Advisor.
If you are interested in booking top COVID-19 speaker Deborah Birx or any other public health expert, turn to Speaker Booking Agency! We have been in business for over 20 years and have a team of experienced booking agents ready to help. Fill out our Online Booking Request Form or call 1-888-752-5831 today to get started!