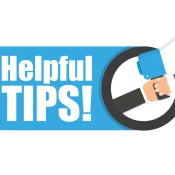 Tips for a Safe Return to In-Person Events
May 11 2022
Carson Ingle
This year has been a pretty great year for events. While virtual events continue to exist, in-person events are making a comeback and we are ready for it. If you are like many of our clients, this may be your first in-person event since the pandemic was declared over. Even if you have already taken the plunge, here are some useful tips to help you make the most of your next in-person or hybrid event.
COVID-19 and Safety Tips
While there appears to be an air of hope around the pandemic at present and an increasing number of in-person gatherings, doing research is crucial. It all starts with creating a health safety plan so you are prepared for whatever comes your way. That means considering pre-event testing and on-site health checks, according to the most recent guidelines from public health officials.
Also, be sure to have discussions about mask requirements, hand sanitizer stations, air filtration equipment, and social distancing with your team. Then assess whether any of these tactics are appropriate for your event. Once you have devised a game plan, make sure to convey any rules or guidelines to your guests as soon as possible. That way, they know what to expect and can come prepared.
An Event to Remember
You will want your event to emphasize the significance of the occasion, especially if it is your first in-person or hybrid event in years. Consider what your audience has been missing the most during the pandemic – when in-person events were unthinkable. Keep this in mind and make sure you include familiar comforts such as travel, networking, freebies, keynote speeches, and human interaction.
When booking a keynote speaker, make every effort to have a good presenter with a strong stage presence and have them physically present. For many guests, this will be their first time in person, so it may be a bit of a letdown to see another face on a screen. Also, consider including some entertainment along with your main keynote speaker or speakers.
Safety, Support, and Comfortability
We enjoy seeing the happy smiles of students, employees, and organization members as they reunite to form bonds and hear from motivational keynote speakers. For all of us, the last two years have been trying. We now have an opportunity to break down barriers of isolation and help attendees engage with one another in meaningful ways.
When it is time to book a keynote speaker or emcee as our industry welcomes physical audiences back to events, our booking agents can help you find the perfect fit. Reach out to Speaker Booking Agency by filling out our Online Booking Request Form or call us at 888-752-5831 for more information.