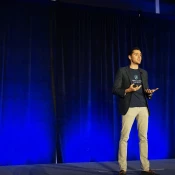 The Future of Events after COVID-19
Dec 16 2020
Carson Ingle
As the ongoing COVID-19 pandemic persists, a multitude of industries continues to be impacted financially. Among the first to feel this overwhelming monetary effect was the hospitality and event industry. During this time of uncertainty, an effort has been made to help the public fully grasp how the event industry has evolved and adapted since the pandemic's emergence. Event platform Bizzabo conducted a survey of more than 400 event marketers to further understand the future of events occurring within the industry at this time.
Impact on Personnel & Budgeting
As a response to COVID-19, almost half of the surveyed event marketers reported changes of personnel within their organization while the majority reported tighter budgeting. Because most event planning businesses have been financially impacted by the pandemic, budgets and resources have become scant. This influence on budgeting looks to be an aspect of this pandemic that may stick around until businesses are able to financially recover. Many businesses within the event industry will now have to plan to be flexible and creative to amplify their yield and satisfy their consumers.
Virtual Events
It is no surprise to learn that 90% of the surveyed event marketers stated that they intend to put their resources into virtual events during this time. Based on the survey, less than a quarter of those interviewed have never previously produced anything in a virtual format. Numerous associations have come to value this format so much so that it is predicted to become a new norm among the event industry as we look to the future.
The Importance of Engagement
While many organizations have transitioned into executing events in the virtual format, the process has not been simple. Carrying out successful virtual events is heavily reliant on attendee engagement as it is known to be the most crucial KPI (key performance indicator) for event marketers. As a result, many event marketers are trying to aim their focus on determining the best strategy and platform to execute their events virtually while accomplishing their goals for engagement.
Increase in Hybrid Events
Over 95% of the individuals surveyed stated they believe in-person events will make a comeback. Similarly, most of these event marketers are exploring new technology that will allow for both in-person and virtual events. Although virtual events do not fully compare to live events, the transition into the virtual space provides an opportunity for creative enhancement of live events. Looking into the future of events after the impact of COVID-19, we can anticipate that virtual events will assume a major part of the overall strategy that organizations implement within the event industry.
Speaker Booking Agency is here to guide our clients through the future of events. We have already helped book speakers for hundreds of virtual events and are beginning to set up in-person appearances again as well. To have one of our talented booking agents assist, give us a call today at 1-888-752-5831 or fill out our Online Booking Request Form.