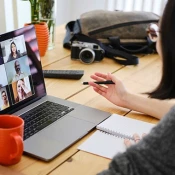 How to Successfully Host a Virtual Event
Jan 04 2021
Carson Ingle
As the COVID-19 pandemic persists, numerous businesses have canceled in-person events and attempted to adapt to the new normal by transitioning into the virtual event space. While pivoting to digital may seem to be a simple change, many businesses have been faced with hosting virtual events for the first time and are grappling with this new challenge. Virtual events can be significantly more effective and impactful than an in-person event however, hosting one requires more than just a simple transition online. It is crucial as a host to ensure that the content is presented effectively to maintain audience engagement. If you don't know exactly where to start, here are some tips to help you with your first digital event.
Identify your Goal
Much like an in-person presentation, you want to identify your goal for the virtual event. Once you know what story you want to tell, it will be much easier to maintain audience engagement. Another option is to create an agenda and send it out to your audience in advance, that way they know what to expect and they have time to prepare questions beforehand. Ensure that your presentation provides the audience with a takeaway whether that be leaving them with solutions, tips, or entertainment.
Select the Right Platform
Choose your software based on specifications like your audience size, interactivity requirements, and your budget. Consider your needs then find a virtual platform that offers the best experience for your audience. Zoom and GoToMeeting are both exceptional platforms for hosting large virtual events.
Partner with a Speaker
Depending on your budget, hiring a speaker to tell your story is a great option to keep your audience engaged. If your budget isn't extensive, employ your team's most practiced presenter; choose an individual who is used to and comfortable with public speaking. On the other hand, if you have an ample budget, invest in a professional speaker like a motivational, innovation, or keynote speaker. Make sure the speaker you choose to hire has some prior experience speaking at virtual events.
Engage with the Audience
Plan to establish a line of communication with your audience at the beginning of your event. Setting a tone of collaboration with your audience allows for more engagement throughout. You can accomplish this by encouraging each individual involved to introduce themselves, including a survey in your presentation, or by making time for questions or group discussions.
Extend your Impact
Once your presentation has ended, follow up with resources. No matter if your event is private or public, you want to make sure it creates a lasting impact. You can do this by uploading the presentation to your website to make the content available afterward. Sending an email along with the materials that were presented to your audience as a thank you for their participation is an additional touch that can encourage them to attend any future events.
Speaker Booking Agency is here to guide our clients through the virtual event process. We have already helped book speakers for hundreds of virtual events and are beginning to set up in-person appearances again as well. To have one of our talented booking agents assist, give us a call today at 1-888-752-5831 or fill out our Online Booking Request Form