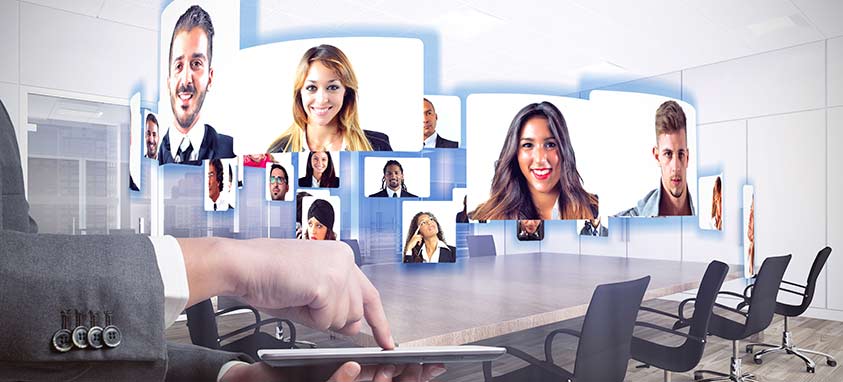 While the business world has been turned upside down due to the coronavirus, many of the same principles and objectives hold true. That is certainly the case for finding ways to communicate with and keep employees engaged.
In-person meetings have now shifted to virtual sessions using technology like Zoom. Despite that dramatic change, the same issues still occur. Mainly, leaders are still striving to keep participants focused, be efficient with time and properly communicate goals, assignments and responsibilities.
When planning a virtual meeting, it is important not to get lost in the technology or focus on something that is not related to your goals. There are eight main ways that you can make these meetings impactful.
1. Know your goal
Just like in a regular conference, you want to know your goal. Specifically for a virtual meeting, understand is you are looking for an environment of collaboration, learning or if you are just trying to introduce an idea or make an announcement.
Depending on the goal of the virtual meeting, you might want to use a specific type of video conferencing software. Adding some mind-mapping tools to a brainstorming session could prove most effective.
2. Set Groundrules for Engagement
When your group is together in-person, everyone will at least give off the appearance of being engaged. No one is going to be messing around on their phones or up attending to another matter while a meeting is going on.
The same provisions are not naturally present for webinars, so it is important to lay down some operating rules in advance. That way, people will be less inclined to multitask or become disengaged in any other way.
3. Pick a Moderator
In a virtual meeting, it is important to have someone who acts as a moderator. They can make sure people are not talking over each other and reset the conversation when need be.
The moderator can also bring other ideas to the table for consideration and initiate any break in the action for extra-long meetings. This person can even be an assistant who would normally be taking notes as they are already familiar with the flow of a session.
4. Make it a Level Playing Field
Just like in a normal business environment, there are factors at play that could make certain people more dominant in a conversation. Try to limit some of these common disadvantages in a virtual meeting to ensure maximum collaboration and contribution.
People from different geographical areas
People who are originally from different offices
People who have slower internet speeds
People who have lower technical abilities
5. Give Roles to Increase Involvement
In addition to setting up a moderator, there are several tasks you can assign to others that will make them feel more like part of the project. Some of the possible roles include timekeeper, notetaker, tech support and conversation assistant.
6. Anticipate Technical Issues
Virtual meetings mostly run smoothly and closely resemble their in-person counterparts except for when technical issues get in the way. Most of the time, these glitches could be prevented with some advance planning.
Testing out whatever meeting software you are using, having your remote staff members check their internet connections and testing your own screen sharing capabilities can drastically reduce many problems.
7. Focus on Eye Contact
Something that can easily be forgotten when navigating a virtual meeting is eye contact. People may be easily lured into just looking at their screens or looking down at something else.
A simple reminder at the start to look directly at their webcams will boost everyone's feeling of connectivity. It can also be helpful that everyone states their name at the beginning of the call in-case their is lag time and certain screens freeze.
8. Build-in Time for Watercooler Talk
When they are together in an office, your employees feel connected to one another through the side conversations they engage in throughout the day. Absent of these talks and people may not be as emboldened to interact with one another in a virtual meeting.
Allow individuals the opportunity to catch up with one another during this difficult time. That way, the lines of communication stay open and collaboration can pour out from there.
Understanding the proper way to run a virtual meeting is more important than ever. In addition, Speaker Booking Agency is here to help with the opportunity now to book speakers for virtual meetings, presentations, webinars and appearances.
Adding a well-known expert from your industry, a motivational sports star or celebrity or any other thought leader can add that extra jolt of life to a video conference that your group needs. Our talented team of booking agents has over 20 years of experience and we have set up thousands of successful events.
To find out rates on a virtual keynote speaker you can call us at 1-888-752-5831 or fill our online Booking Request Form.
In addition, during this difficult time, SBA is more committed than ever to top-notch customer service. Our agreements include a coronavirus clause that allows clients to postpone their events and reschedule at any time in a 12-month window.
Let us help get you on the road to booking a great speaker and putting on a successful virtual meeting!