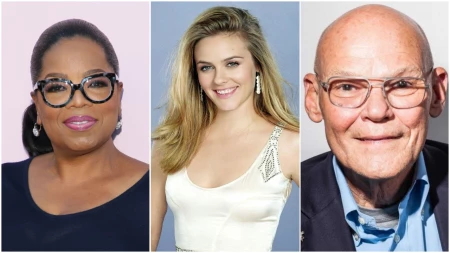 Some of the biggest names in the speaking industry have been hired as keynote presenters this week. The distinguished speakers include individuals from the worlds of entertainment, technology and politics.
Oprah Winfrey Set for the UNCF Maya Angelou Women Who Lead Luncheon
Oprah Winfrey, one of the most successful media pioneers of all-time, is going to keynote the event that honors her late longtime friend Dr. Angelou and benefits students at historically black colleges and universities. She will share an inspirational message about the leaders of tomorrow, particularly women of color.
The 17th annual event takes place on September 28 in Charlotte, North Carolina at the Westin Charlotte and it is already sold out.
Oprah Winfrey Speaks at Women in the World Summit:
New West Summit Taps Actress Alicia Silverstone as Keynote Speaker
Many people best remember Alicia Silverstone for her iconic role in "Clueless," but she is now a prominent health and wellness activist. That led to her appointment as the keynote speaker this week for the New West Summit THE Cannabis Tech Conference.
Some big names, like Richard Branson, were already slated to speak at the event. NWS5 San Francisco takes place October 10-11 at Bespoke Event Center and Under the Dome.
Alicia Silverstone Talks About Her Fight for Women's Health:
Political Analyst James Carville to Keynote Executive Conference This Fall
James Carville has always been known as an entertaining speaker during his years as a television political commentator. He has also been successful with a side speaking career and will keynote the Executive Conference of the Sewn Products Equipment & Suppliers of the Americas, October 29-30.
The location of the event, New Orleans, allows the Lousiana native Carville to fit right at home. He will have a lively talk touching on a variety of topics before the rest of the conference program tackles the challenges in the sewn products equipment industry.
James Carville Speaks at TEDxNOLA:
PAS Names Cybercrime Reporter Brian Krebs Keynote Speaker
No one is relied upon more to speak about matters related to cybersecurity than Brian Krebs. That made him the perfect choice to keynote the PAS OptiCS 2020 Conference, an event that stands as a leader for top influencers in Operational Technology cybersecurity and process safety.
Krebs will address industry challenges, which particularly fits well under the conference's theme, "OT Security and Safety in the Age of Digital Transformation." The event will run next April 14-16 in Houston, Texas.
Brian Krebs Talks About Cyber Crime:
Speaker Booking Agency works with some of the top conference organizers and keynote speakers in the world. Our talented team of booking agents has over 20 years experience and we have set up thousands of successful events.
In addition to calling us at 1-888-752-5831, you can also get directly to our agents by filling out our online Booking Request Form. Let us help get you on the road to booking a great keynote speaker and putting on a successful event!