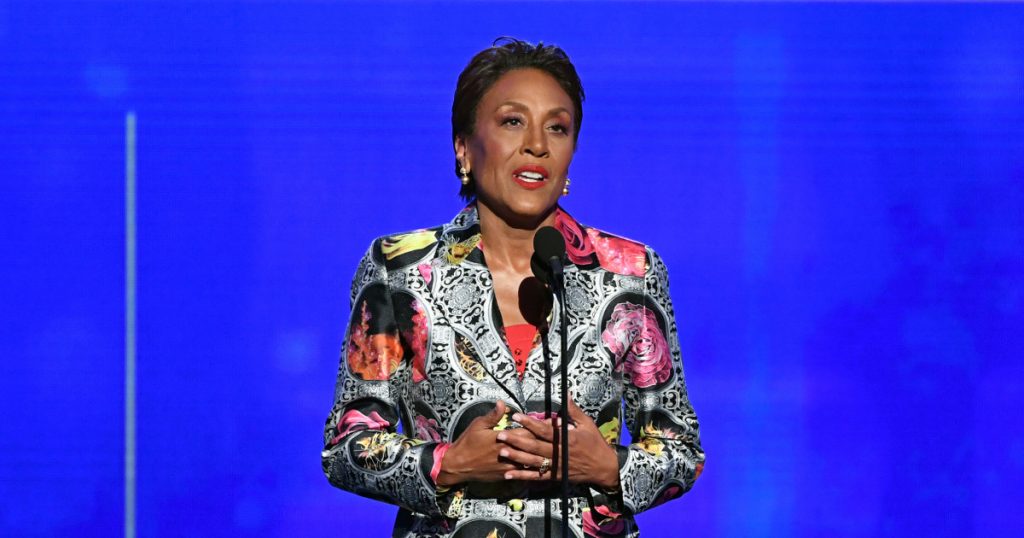 Through several decades as a prominent television personality, Robin Roberts has garnered respect from the audience and her colleagues. That admiration was on display again last week when she received the Sager Strong Award at the NBA Awards. 
The Sager Strong Award is presented in memory of the late Craig Sager, who died from leukemia in 2016. Roberts herself has battled breast cancer and myelodysplastic syndrome and become an awareness advocate for both diseases. 
In accepting the award, Roberts gave a rousing speech on-stage that centered around the theme, "Make your mess your message." Given her prominent status as a top cancer speaker, it was no surprise that she passionately implored people to live with strength through any obstacles they face. 
"Mama used to say 'Everybody's got something,' said Roberts. "A challenge that you face, already have faced or about to face," Roberts said. "I urge you not to compare your despair. I don't know what your 'something' is, but I do know that we're all stronger than we think we are."
Roberts' appearance at an event meant to honor the best in basketball made sense due to her years in sports broadcasting. She worked for 15 years at ESPN and is a member of the Women's Basketball Hall of Fame.
While at ESPN, Roberts began doing work for Good Morning America and eventually crossed over as a full-time co-anchor in 2005. She earned a Peabody Award in 2012 for her work covering myelodysplastic syndrome. 
Roberts has also won the Walter Cronkite Award for Excellence in Journalism, the Radio Television Digital News Foundation's Lifetime Achievement Award and the Arthur Ashe Courage Award. She is additionally a member of the Sports Broadcasting Hall of Fame. 
If you are interested in booking Robin Roberts for a speaking engagement or appearance, fill out our Booking Request Form. You can also get directly to our agents by calling Speaker Booking Agency at 1-888-752-5831. Let us help get you on the road to booking a great keynote speaker and putting on a successful event! 

Robin Roberts Sager Strong Award Speech: