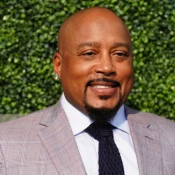 Keynote Speaker Daymond John Shares Important Lessons at MJBizCon
Nov 17 2021
Keynote speaker Daymond John, a co-star of ABC's famous show "Shark Tank," gave a rap-laced lyrical presentation at MJBizCon. In it, he shared his five major pieces of business advice— all of which spelled out the word "Shark."
"S: set your goal. You can't hit a target you can't see," John, the founder of the hip-hop apparel brand Fubu and the trade show's closing keynote speaker, stated.
"H: you gotta do your homework. The only thing that costs more than an education is ignorance."
"A: amore. Love what you do but love that damn family more than anything else. So many of us are on our second careers and second families because we made everything else a priority."
"R: remember you're the brand. Put yourself in two to five words. You have employees? Ask them what their two to five words are. You might find that they're passionate about something else you're passionate about."
"K: keep swimming. Simple as that."
The hundreds of attendees who were ready for advice from a hugely successful entrepreneur applauded John's presentation with a standing ovation.
"There's something very important I've learned on 'Shark Tank': We do not invest in companies. We invest in people," said John to the crowd.
He used stories from his own path to fame and wealth to illustrate each point. John, who was born in New York, began his career with Fubu in the early 1990s. At the time, him and his mother worked from their humble Queens home to fulfill $300,000 in clothing orders.
"If you're not in charge of the goals you set for yourself, you let other people set goals for you," said keynote speaker Daymond John.
The investor also advised cannabis entrepreneurs that they are definitely not creating or selling something that does not already exist. Most businesses today are founded on innovative marketing ideas or creative approaches to long-established services.
One of the most important messages John had for marijuana entrepreneurs was never to lose sight of their actual goals. This is especially important because founding a business can be challenging.
"Everyone's making (entrepreneurship) seem like it's so damn glorious. No, it's not. It's very hard. But it's worth it," said John.
If you are looking to book keynote speaker Daymond John or another business leader, contact Speaker Booking Agency today. Our team will work with you until we find the perfect speaker for your event. Fill out our Online Booking Request Form or call 888-752-5831.